What if you woke up every day with a morning routine in place that made you feel energized, awake and inspired? What if you could be present and in the flow at work regularly, so productive that there wasn't a need to overwork and wear yourself down? What if you didn't put everyone else ahead of yourself? What if there was no more shutting down or numbing out? If behavior change was possible? If you got to feel passion, inspiration and vitality — in your BODY, regularly?

What if we stopped focusing on doing more, and learned how to BE more?

This is a shout out to all of you out there overworking and under-being, cycling through exertion-exhaustion, hiding from your full potential, stress eating, or crashing. You know there is more, but when you go for it, life has a way of pulling back — injury, fatigue, migraines, depression, anxiety, complex relationships, work overload.

For years, I operated in a state of shut-down. I overworked. I crashed. I overate. I hid. I put myself in relationships where I could safely under-be. And then, I started healing my nervous system and I woke the F up. I moved from a body and brain that was in a constant state of protective mode into performance mode. I got stronger, alleviated chronic pain, stopped overeating, ended partnerships that kept me small, saw my purpose with clarity, found my voice to share it and stepped into visibility. Today, in the midst of everything happening in the world, my life is full of passion, curiosity, excitement, service and growth.

What I didn't know for so long is that stress from my past and in my present was constantly pushing me into varying states of "freeze" – the nervous system response to threat overload.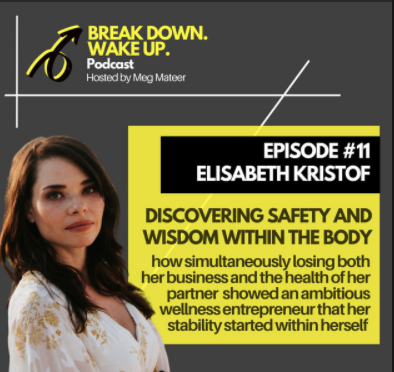 Learn more about how cycles of overworking and exhaustion are both an output of your nervous system and factors that contribute to your nervous system dysregulation in the episode of Break Down. Wake Up.

Now more than ever is time to step up and heal, to cultivate resilience in the face of uncertainty and change. In this six-month, small group coaching program, we will train your CNS and subconscious mind to create more energy and focus, to sleep better, to make better decisions, and to step up to that higher way of being. If you're ready to feel vibrant, creative, inspired, and awake, then this is your group. I am ready for you!
Six-Month Program Includes:
Twice a month small group (8 max) behavior change and applied neuro coaching sessions, 1.5 to 2 hours each (Normally $250 per session, per person)
6-months LIVE BBW Site Access – one live workout or neuro training session every day! ($115 / month)
6 monthly Private Rewire workshops with guest speakers, homework and recordings, 2 hrs each ($75 each)
Custom meditation recordings ($250 value)
Group Voxer thread with 24-hour response from Elisabeth (priceless :))
Lifetime access to session recordings and mediations
Behavior change and neuro-psych worksheets and curriculum
Drill tracking sheets and an applied neurology practice customized for your unique nervous system
Membership in a supportive, inclusive community of curious, growth-oriented seekers
Monthly Investment:
$215 per month for 12 months or $400 per month for 6 months ($180 savings)