---

---
Embodied Revolution: Find Your Center in a Polorizing World
with Hannah Roediger and Elisabeth Kristof
---
---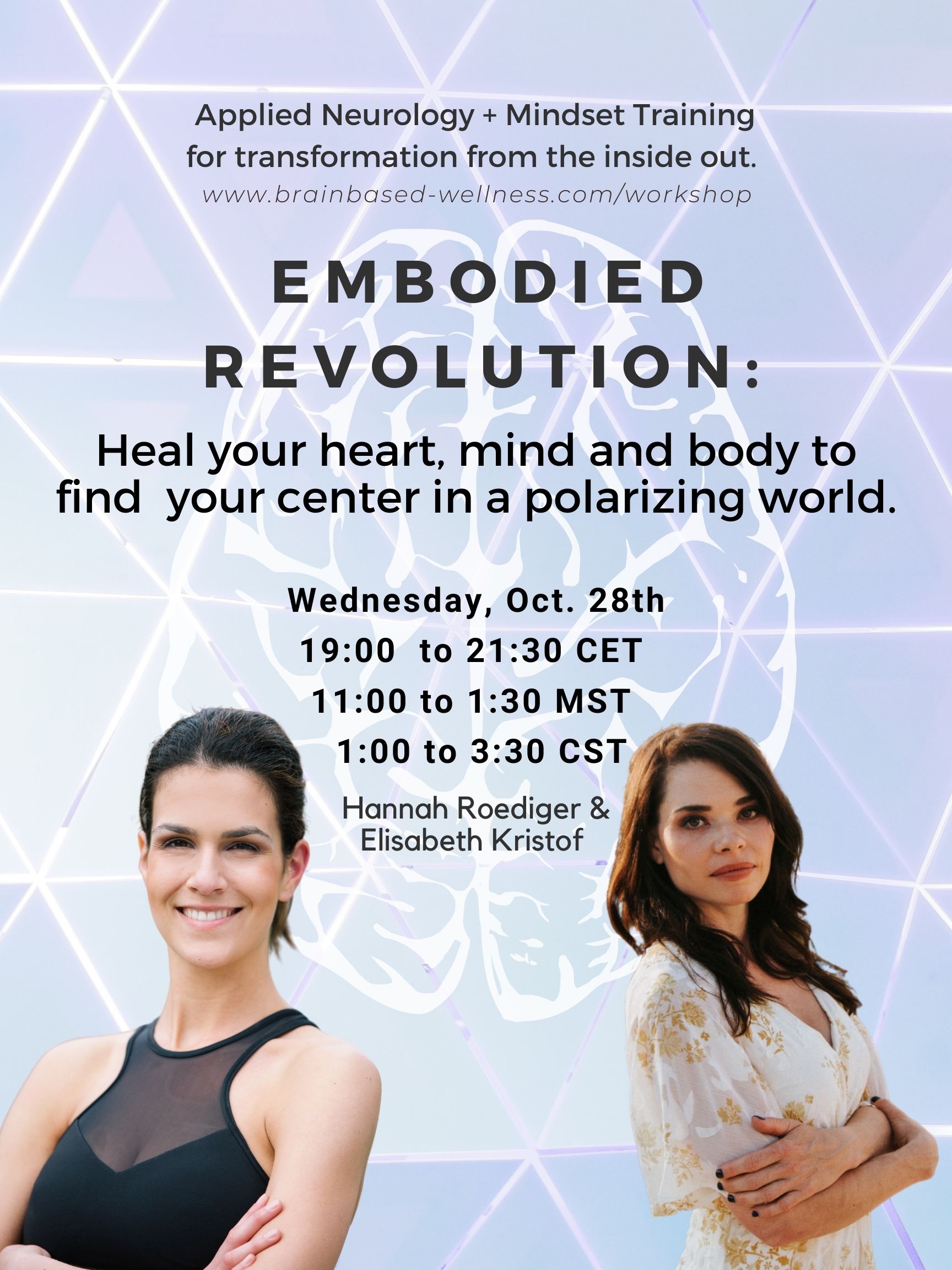 ---
Change and uncertainty are threatening to your brain. We are wired to use pattern recognition and prediction for survival. Yet the world right now demands change and an ability to pivot quickly.
We strive to adapt and therefore change our behavior, mindset, and emotional response, but it can be overwhelming and frustrating.
No matter what the external circumstances, how can we develop resilience, adaptability, and the capability of embodying the change we want to bring to the world? Change that the world is requiring of us?
This workshop will give you the tools to re-calibrate your nervous system, the practices to move out of threat and limitation, and new ways of thinking and feeling that will empower you to find your OWN way to stability and balance in a polarized world.
---
19:00 to 21:30 CET / 11:00 to 1:30 MST/ 1:00 to 3:30 CST
In this workshop you will:
Cultivate thinking that gives you tools and agency to find your own way to balance, resilience, and health.

Find stability inside of yourself regardless of external circumstances.

Learn the neurology of change - drills, and behavior change tools to reduce nervous system threat and make change achievable.

Reset cranial nerves to heal stress responses physically and emotionally.

Learn brain-training drills to activate your midline structures and change your posture at the subconsious level.

Develop a morning applied neurology practice that prepares the body and mind to be relaxed, present and adaptable.

Train respiration to reduce physical threat on a second-by-second basis and bring the nervous system out of protective mode into performance mode.

Do Belief Rewire Meditation practice that utilizes neurosomatic meditation to embody new beliefs and change your external experience.

Explore shadow work to create a foundation of RADICAL self-love that enables you to move forward in the world grounded in a strong sense of self and deep peace of mind.
*** All participants will receive a copy of the workshop to use for their at-home practice. To purchase a copy of the workshop even if you can't attend live, register below.***
Already have brainbased-wellness.com account? Please
Login
first (you'll be redirected back here to complete your sign-up).
---
---
---
Hannah, founder of Creating Superheroes in Human Skin, is a Z-health trained neurospecialist, certified high-performance coach, medical fitness coach and yoga instructor (500 RYS). She believes we are all born with the capacity to be a Superhero in Human Skin that lives life powerfully free. Hannah has spent over 2.000 hours studying neuroanatomy, postive psychology, diffrent movement, pain-relief and high-performance systems to give her cleints the tools and coaching they need to understand why they are in pain and feel held back. Her comprehensive coaching services allow clients to realize their full potential - mentally, physically, and emotionally - by bringing heart, brain, and body back into balance. Hannah believes that health is not a secret but a proccess of consistently applying fundamental skills to the areas of physical, mental, and emotional training!
Elisabeth, founder of Brain-Based Wellness, is a certified Pilates teacher and Z-health applied neurology practitioner, who has been in the movement industry since 2007. After being a director of a Pilates studio in central Austin and national Pilates teacher training program for over a decade, she transitioned her focus to the neurology of athletic performance, behavior change and resilience. Working with thousands of bodies, she learned that each body, mind and nervous system is unique, capable of healing and can be trained to resolve trauma and old patterns.
---